Heidelberg Castle Illuminations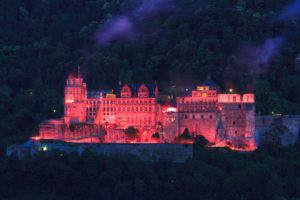 Every year there are three spectacular firework displays to commemorate the fairytale wedding between Prince Elector Frederick V and his English bride Elizabeth Stuart in 1613. The castle illumination itself is a reminder of the destruction of Heidelberg castle in 1693. See how the castle walls are illuminated in dramatic red flickering light before an explosion of colorful fireworks brightens the night sky. This is a magnificent summer spectacle with a stunning backdrop!
Dates 2019
1 June 2018 / 13 July 2018 / 7 September 2019 as from 10.15 p.m.
Heidelberger Herbst (Heidelberg autumn festival)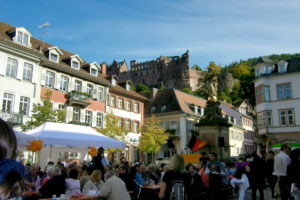 The biggest and most popular town festival in the region! Restaurateurs, wine growers, clubs, creative artists and committed citizens organize a colorful spectacle with music, culinary delights and a market atmosphere. The highlights include the medieval market on University Square and the numerous stages in the old town. On Saturday there is live music from 11 a.m. onwards, and on Sunday the shops are open.
Date 2019
28 September 2019: Heidelberger Herbst 11 a.m. – 11 p.m.
29 September 2019: Family festival and Sunday shopping 11 a.m. – 7 p.m.
Heidelberg Christmas Market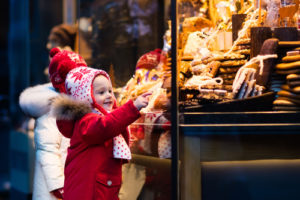 Come and visit one of the prettiest Christmas markets in the world! Every year the romantic old town is lit up with festive lights. Around 140 stalls invite you to feast, shop and wander from one stall to the next. The local wine growers serve home-made mulled wine, creative artists sell their latest creations, and the air is filled with the smell of pancakes and gingerbread.
Date 2019
25 November – 22 December 2019